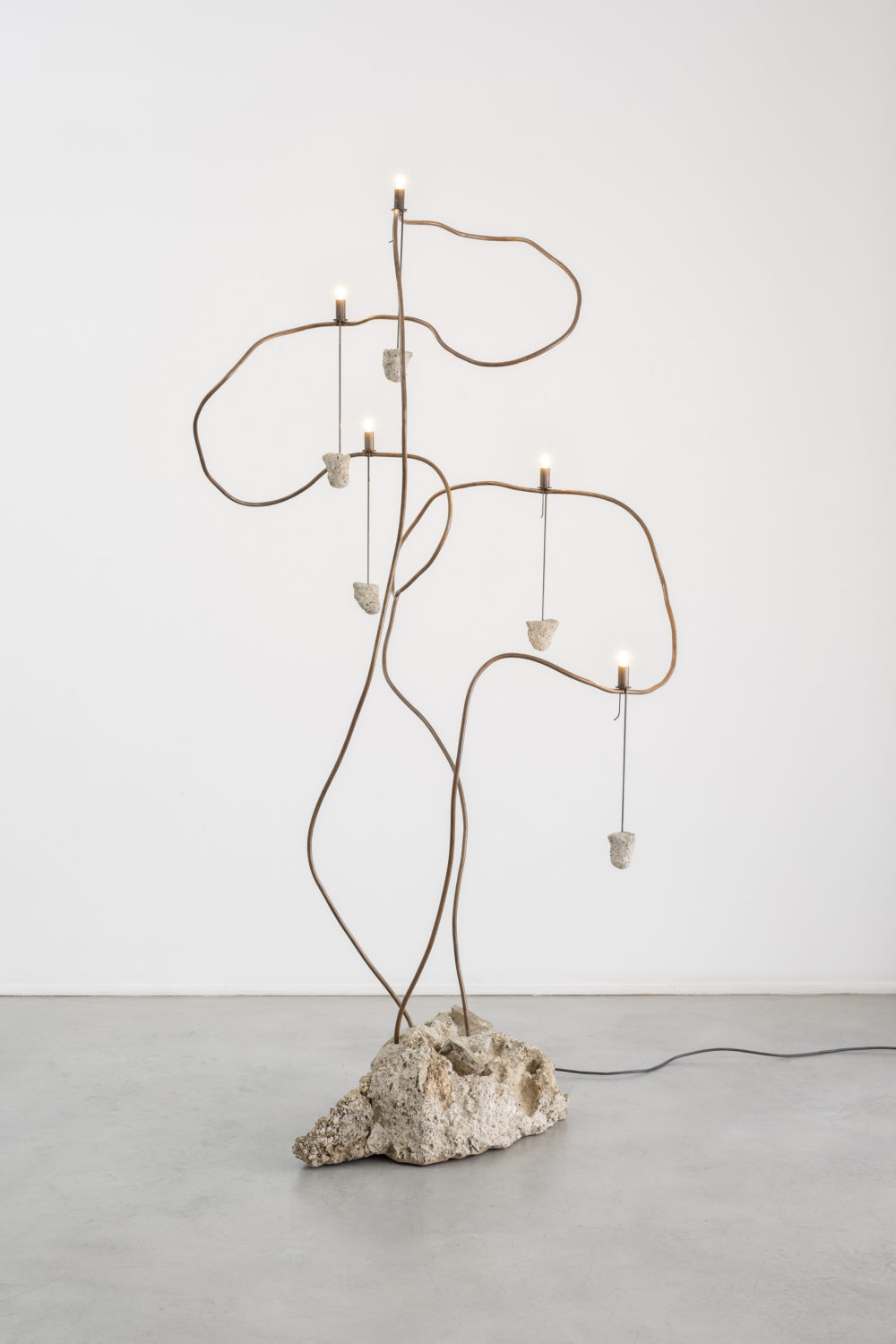 COPPER ROOTS I
Unique Piece (Floor Standing Candelabra) Copper tube, limecrete, and electric light. 1870 x 960 x 670mm Available from Gallery FUMI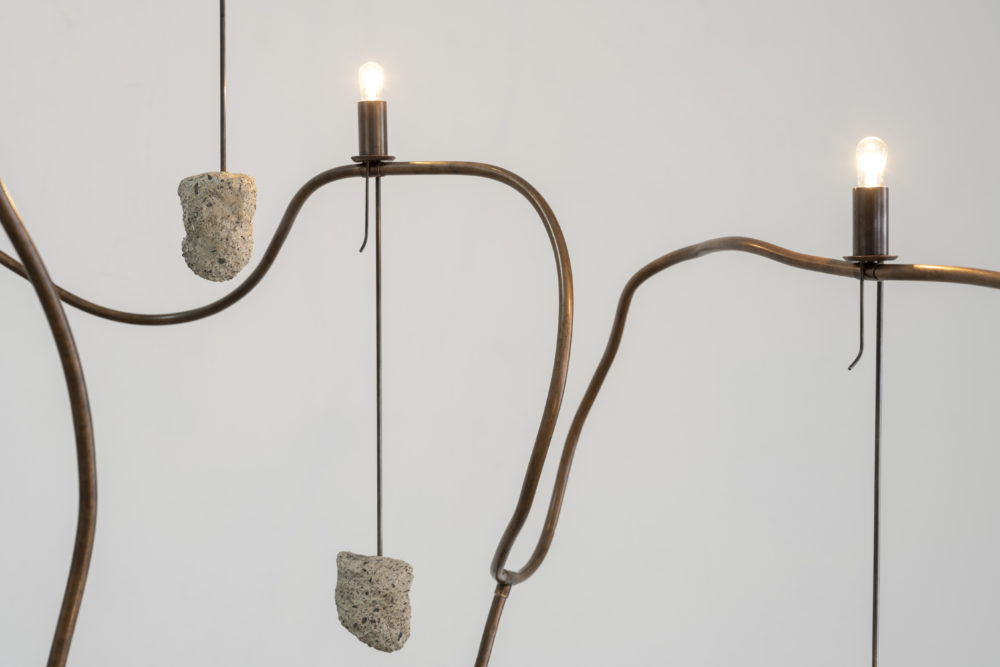 COPPER ROOTS I
Unique Piece (Floor Standing Candelabra) Copper tube, limecrete, and electric light. 1870 x 960 x 670mm Available from Gallery FUMI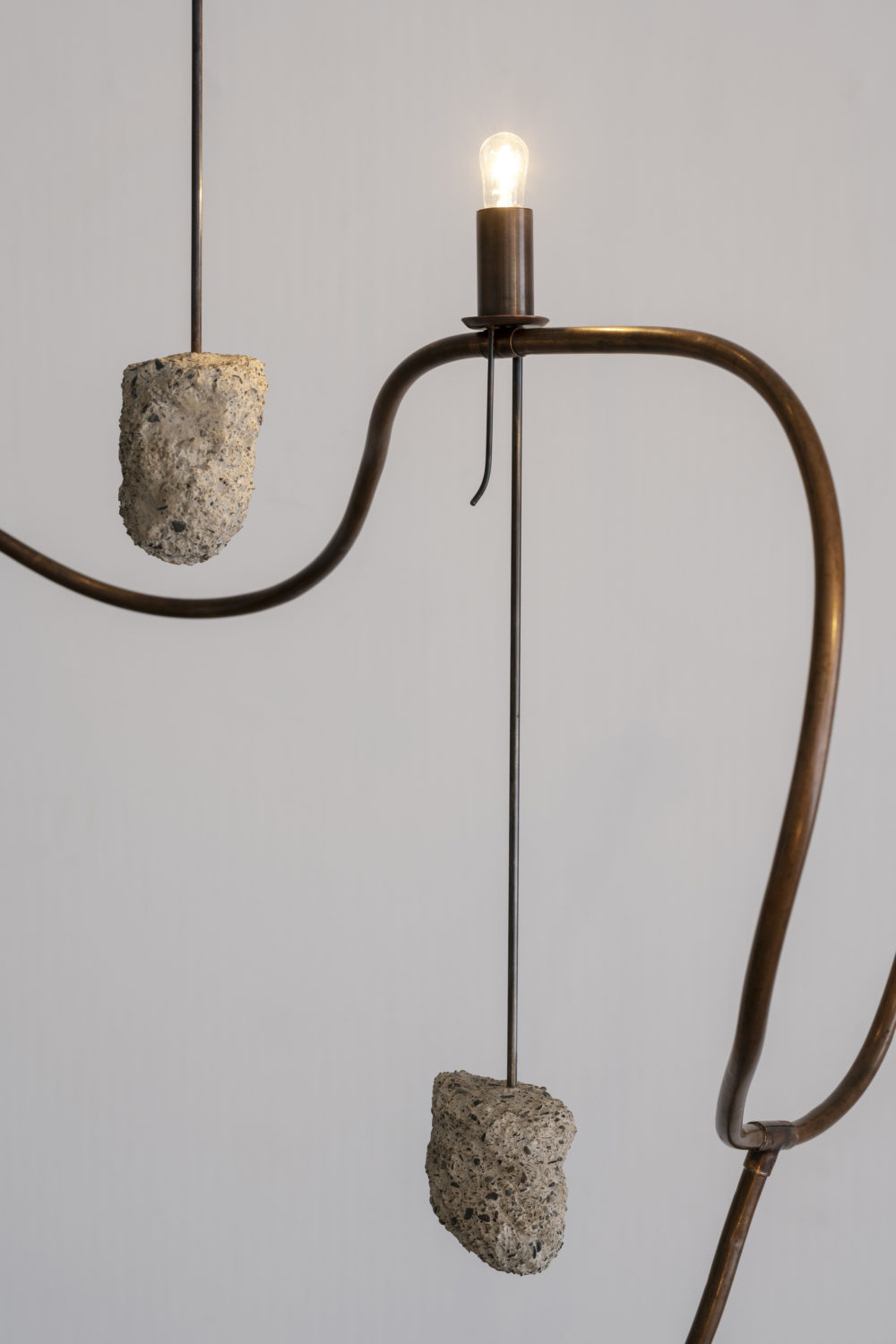 COPPER ROOTS I
Unique Piece (Floor Standing Candelabra) Copper tube, limecrete, and electric light. 1870 x 960 x 670mm Available from Gallery FUMI
COPPER ROOTS I
Unique Piece (Floor Standing Candelabra) Copper tube, limecrete, and electric light. 1870 x 960 x 670mm Available from Gallery FUMI
COPPER ROOTS I
Unique Piece (Floor Standing Candelabra) Copper tube, limecrete, and electric light. 1870 x 960 x 670mm Available from Gallery FUMI
Twisting and contorting copper lines emerge from a shattered fragment of concrete. A graceful and skeletal frame is grounded by a solid mass, and receives individually suspended and counter-weighted lamp-holders. Each is illuminated by the simple act of placing, and extinguished by lifting off.
Copper Roots are an evolution of our Steel Roots series.  Electric lights replace the candles – but the ritual of placing them one by one remains. The same delicate counterbalance. The same gentle glow. The fragility of a candle, the constancy of a luminaire. The feel of glowing embers.
The work is materially of this place. Our new home. It began incidentally, whilst ripping out old pipework from the farmhouse.  The haphazard removal created unplanned forms, and copper's conductivity allowed an exploration of electrification. Electrons now flow where water once did. The brutal demolition of a manger in an old barn produced lumps of concrete.  The perfect weighty foil to the copper tube's flightiness.  Gravity and light in conversation.
The lamp-holders are created through a ritualistic act. Digging, sifting and washing stones from our ground. Mixing with local lime and sand to create our own limecrete.  Small holes are dug in the earth to receive each lamp-holder, and temporary bamboo structures – reminiscent of supports for growing plants – hold the lamp-holders steady as the limecrete solidifies around their base.  Perhaps to describe this act as planting is absurd. But the feeling of nurture and transformation – of a placing in the ground to create growth – is the same.