TENDER PRAY I (2015)
Unique Piece 19th Century Prayer Chair, Antique Oak Church Pew, Cast Concrete Block 960 x 610 x 2625 mm
WEIGHTING (2015)
Unique Piece 19th Century Irish Porters Chair, Antique Pitch Pine Church Pew, Concrete 1230 x 828 x 3320 mm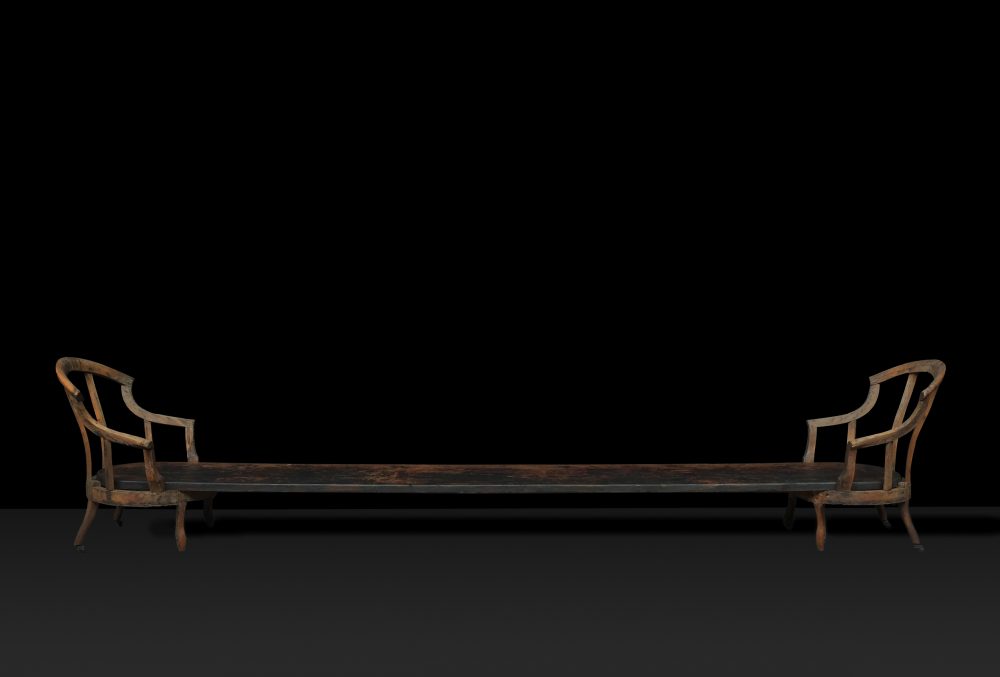 ALONE TOGETHER (2015)
Unique Piece Pair of 20th Century French Chairs, Antique Swiss Pine 305 x 787 x 4318 mm
TENDER PRAY IV (2018)
Unique Piece 19th Century Prayer Chair, Antique Oak Church Pew, Cast Concrete Block 995 x 520 x 2885 mm
WING BENCH (2012)
Unique Piece Antique Armchair, Pitch Pine Church Pew Bench, Concrete 1090 x 850 x 2930 mm
WING BENCH (2012)
Unique Piece Antique Armchair, Pitch Pine Church Pew Bench, Concrete 1090 x 850 x 2930 mm
TENDER PRAY II (2015)
Unique Piece 19th Century Prayer Chair, Antique Oak Church Pew, Cast Concrete Block 960 x 610 x 2625 mm
Chairs of varying history and provenance are severely reimagined. And yet, it is as if they always could have existed like this. The series follows a process where found objects are distilled, pared back, dissected, realigned, and translated as unique and contemporary pieces.
Conventional geometry is cut and spliced. The intervention is irreverent but dedicated. A balance between the surreal and undiluted solidity. Fundamentally however, each work is a place to settle. A place to sit.
ALONE TOGETHER
A pair of early 20th Century French chairs. Found shattered and fragmented. Esteemed provenance is absent. That they were found individually broken, but together as a pair, is much more important.
These chairs are siblings but separate. The individuals are spanned by a timber of extreme length and wilful strength. A line that connects solitude with intimacy.
TENDER PRAY
Prayer chairs from the late 19th Century whose daily use was isolated worship. The high back, originally upholstered, supported the kneeling prayers. The chairs are meticulously worked to be unadorned, and exposed. Remnants of past fabrics, and hundreds of tacks are removed, carefully, delicately. The original sacred form is left, interrupted by a perpendicular reach of church pew bench. A concrete mass is trusted for support. Absolute in its solidity.
WEIGHTING
A 19th Century Irish porter's chair. The enclosed body once protected against the draughts of a cold passage hall. This chair has witnessed thousands of arrivals and departures. Silently standing guard on cold Irish mornings.
The upholstered skin now removed, reveals the architectural beauty of the carpenter's hand. The frame is stark and spare in negative space, yet evokes comfort and security. A commanding section of church pew bench emerges, calmly resting on a purposeful block of cast concrete.